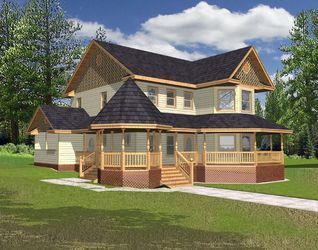 Victorian House Plans
If you've always dreamed of living in a traditional-style home, our Victorian house plans are a great option for you. Victorian architecture has influences from the medieval period, the industrial revolution, the Greek revival, and more. All of these influences have given way to the grand Victorian homes you see today. 
The many elaborate architectural forms that appeared during Queen Victoria's rule over the United Kingdom from 1837 to 1901 are collectively referred to as "Victorian architecture." These forms, which rejected the utilitarian simplicity of earlier architectural eras, are unified by ornamentation and ornate features. Although Victorian architecture originated in England, it had a significant impact on Australia, New Zealand, and North America.
Before the Victorian era construction was done in the Georgian style. This design had many small windows, symmetry, interiors in the Renaissance revival style, and little adornment. The subdued styles of the past were abandoned in favor of a style that expressed the riches of a select group of social classes during the Victorian era.
Our Collection Of Victorian Home Plans
Select the features you want from the search below to get one step closer to your dream home
Victorian architecture's distinctive features
The sumptuous sensibilities of the time were reflected in the architecture and interior design of the Victorian era.
1. Ornamental design: Victorian structures were created to be aesthetically pleasing. The exteriors were embellished with beautiful gables, eaves, and rooftop finials, while the interiors were furnished with lavish, opulent furnishings.
2. Exteriors painted in vibrant hues: Victorian houses and other structures are frequently painted in a range of pastel shades, jewel tones, and earthy hues. While others use numerous clashing hues, some have a monochrome color palette. Additionally adding color to Victorian homes' interiors and exteriors were their stained glass windows.
3. Complex architecture: Victorian buildings have bay windows, steeply pitched rooflines (sometimes called Mansard roofs), and expansive, wraparound porches, in contrast to the plain architecture of earlier periods.
Why did interest in Victorian house style soar?
The mid- to late-19th century saw a spike in the popularity of Queen Anne and Italianate residences in the United States, thanks in large part to the 1876 Centennial International Exposition (the first official World's Fair). These home designs were even more well-liked as a result of improvements in construction methods, improved accessibility to a wider range of materials and concepts thanks to new train networks, and increasing availability of house plan publications.